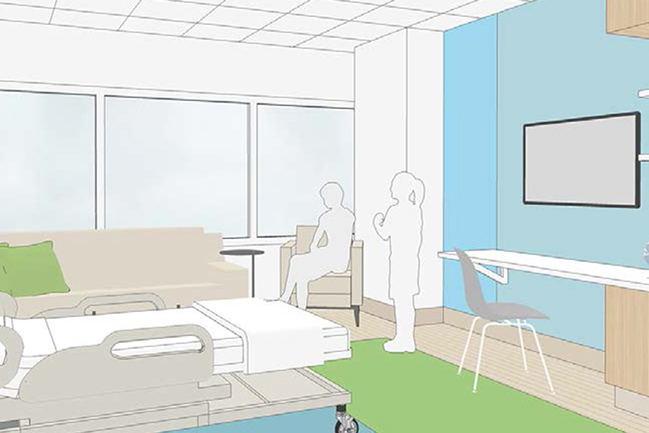 When life's unexpected challenges catch you off guard, it is the strength, and spirit and resolve of those around you who help guide you through these difficult journeys. In 2019, when the new Shawn Jenkins Children's Hospital becomes a reality, the physicians, nurses and other staff members involved in the care of our cancer and blood disorders patients will be focused on each child's individual journey, beyond what is typically experienced as a child or family in a children's hospital.
Looking out across the rooftops of our beloved low country, in a real and magical sense, our comprehensive cancer and blood disorders program will provide the same continuum of care we have always provided, but in a new and different way. From the peaceful views afforded to everyone on the 10th floor, to the separate and dedicated child life spaces for children and teens, we are creating a space that delivers the highest quality of clinical care, as well as offering hope and peace and serenity.  In addition, we will have both private and open-bay infusion areas, depending on the family's preference, as well state-of the art clinical areas. All of our inpatient areas will also be located on the tenth floor, allowing for greater ease and comfort to the patients and families. This layout will not only be efficient in terms of the clinical care provided, but will help facilitate and create a strong and special bond between our patients and the medical team.
As we look to the future of MUSC Children's Health and the children of Charleston, we are imagining what is possible for each and every child we serve.  
Oncology and Blood Disorder Floor 10
More than 75 percent of the children diagnosed with cancer are today hitting the 10-year survival rate generally considered as a "cure."  Of course, the key to achieving this positive outcome is providing young patients with the care they need, when they need it.
Almost every aspect of the MUSC Shawn Jenkins Children's Hospital's cancer and blood disorders unit has been planned to provide our young patients with this highly advanced care, in the most comfortable and family-centered environment possible.
The unit will occupy the entire top floor of the hospital, to provide these patients and families with soothing views of Charleston rooftops and the surrounding lowcountry landscape.
The patient rooms will be equipped with sofa beds, comfortable furniture and other amenities to accommodate extended stays by family members.
Longer-term visitors also will have access to shared kitchen areas, laundry facilities and other common areas to promote a supportive community of patient families and caregivers.
The floor will have two Child Life areas – one for teens and one for younger children – equipped with games, toys, art supplies and other "distractions" to help them feel more at ease in the patient care setting.
The new, larger unit will have 16 inpatient beds, plus an outpatient clinic and both private and open-bay infusion areas, depending on the family's preference.
The unit also will house both inpatient and outpatient care, ensuring that children have the same caregivers from beginning to end of their treatment – an important factor in helping them feel secure and comfortable.