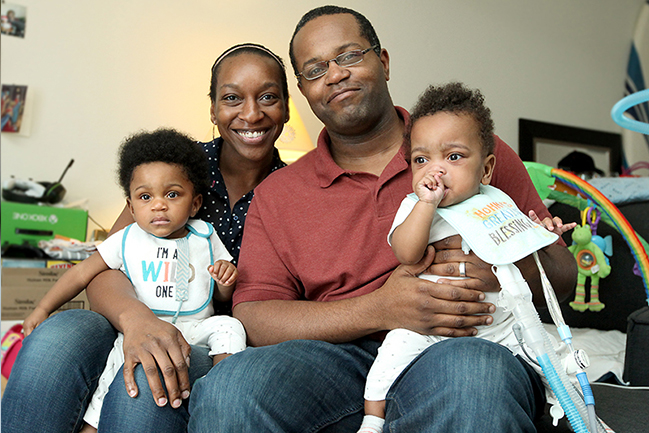 Leslie Jackson left her prenatal checkup in an ambulance bound for MUSC. The twin boys growing inside were 22 weeks and 6 days old, a gray area as to whether they could survive outside the womb.
The medical term is viability. But for Leslie, it meant more than any single word could encapsulate. It meant fighting for every hour she could pass until her sons' birth and then fighting for every day once they arrived.
She lay in a hospital bed, trying to remain pregnant as long as possible, while a host of staff visited her room – from obstetricians and pulmonologists to palliative care specialists. 
"They were telling me everything that could possibly happen in the next 24 hours," she remembered. "I'd been carrying these two for four and a half months. They'd been doing fine. So I told them, 'I don't believe our kids are going to die.'"
She made it to 24 weeks. Xavier and Elijah arrived on Nov. 16, 2016, at 1 pound, 11 ounces and 1 pound, 8 ounces, respectively.
Their diapers stretched to about the size of a dollar bill. Leslie and her husband, Jelani, couldn't hold their sons for the first week of their lives. And the boys lived in an incubator in the neonatal intensive care unit of MUSC Children's Hospital until January.
"They call the first three days the honeymoon stage, and only after that do they find out who's struggling," Leslie said. When she talks about her sons' first year, she speaks like an educator – someone who learned so much so quickly and understands that not everyone knows the ins and outs of premature birth.
Leslie would stay with the boys all day and Jelani, who works a night shift with the U.S. Postal Service, came after work from 1:30 a.m. to 4 a.m. Both boys, given their underdeveloped lungs, suffered from chronic lung disease.
"Bad things always seemed to happen at night for them," Jelani said. "So I wanted to be there. When I went to see them, even if it was a bad day, I came in smiling."
He soon recognized the importance of having dedicated "couplet care" rooms in the new MUSC Shawn Jenkins Children's Hospital, so that parents will be able to stay with their newborns during long stays in intensive care.
"It will be great to have more space so that parents can be a little more hands-on," he said. "Rooming-in with the babies can be tough."
Jelani would stay with the twins until he could barely remain awake, and then Leslie would roll in around 7 a.m., always in time to catch rounds with the twins' doctors for an update. Wracked with anxiety, she took comfort in the personal connections she made on the neonatal intensive care unit.
"The love and care they give to those kids means the world," she said, "especially for parents thinking, that's supposed to be me taking care of my baby."
Eli soon began to thrive and, after five months at MUSC, Leslie and Jelani took him home. But Xavier struggled through setback after setback – fluid on his lungs and then air trapping, a bacterial infection, pneumonia, hernia surgery. Weeks passed, and his prognosis remained uncertain.
Leslie and Jelani kept vigil by his side. Xavier became a poster child for MUSC's telemedicine program, smiling on camera for specialists and clinicians training to treat critically-ill babies from afar. And after 342 days at MUSC, Xavier finally joined his brother at home.
"When he first got discharged, we were really worried," Leslie said, "because you have to get right in your mind that you're running an ICU in your house."
Xavier and Eli are now 15 months old and weigh 18 and 19 pounds, respectively. Eli loves his fire truck and jumper and shows signs of walking soon. Xavier requires a tracheostomy, ventilator, humidifier, suction and a feeding tube, but he continues growing stronger each day. He eats solid food with his brother and enjoys playing on his mat.
Leslie recently began volunteering in the neonatal intensive care unit as an advocate and ally for other parents of babies with uncertain futures. And when staff members cycle through their hospital rooms, Leslie can take her turn and offer the important perspective of a mom who's been there and understands.
About the Author
Allyson Crowell