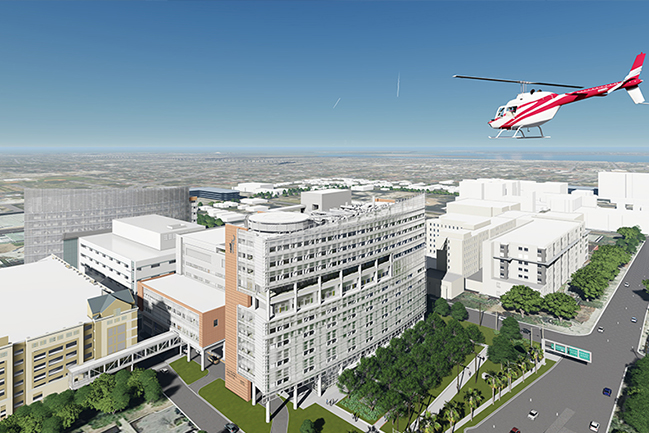 When the MUSC Shawn Jenkins Children's Hospital opens next year, it will be equipped with a rooftop helipad, allowing the medical team to deliver rapid, lifesaving care to patients flown in from all over the state and beyond if necessary.  Senior Project Manager John Sion recently answered a few questions about this new amenity.
1.  How is this helipad tied in to the hospital's operations?
The helipad will provide quick and easy access to maximize availability for patient operations. There will be two patient transport elevators, both larger in size and weight capacity than a standard elevator, that can bring patients from the helipad down to the emergency department on level 1 or the ground level to be transported by ambulance to one of our other facilities, if needed. The helipad can hold the largest helicopters flown by the U.S. Coast Guard and Army National Guard. Though it may not see this type of operation often, it will provide us the flexibility to enlist military help in transporting patients in an emergent event.
2. How will this be different from the existing helicopter pad?
The pad we have now is located a couple of blocks away from the children's hospital. The new one will allow us to bring patients directly into the hospital setting, without requiring additional ambulance transport upon arrival.
3. How many helicopter transports do we receive a year?
 MEDUCARE helicopters, the primary operator, transports 250 pediatric patients per year on average. This is in addition to other air ambulance companies transporting pediatric patients.
4. Who owns the helicopter? Are there different companies that can come in? How do you handle "air-traffic control"?
Third-party companies that specialize in air ambulance operations own the helicopters and brand them as MEDUCARE through legal agreements.  The operator is responsible for maintaining the helicopters to meet the strict regulations set by the FAA.
In addition to MEDUCARE helicopters, there are at least three other air ambulance operators who transport their patients to us by helicopter.
MEDUCARE dispatchers coordinate the flight operations and sequencing of the helicopters. They notify us when the helicopter is leaving to pick up a patient so we can anticipate the time of arrival.
5. Anything that sets our helicopter pad apart from other medical facilities?
We designed our helipad to hold a significantly larger and heavier helicopter than other medical facilities. In addition, the helipad is IFR (instrument landing system) rated so that we can handle operations during difficult weather conditions, such as fog and rain. Very few rooftop helipads are rated for this capability.