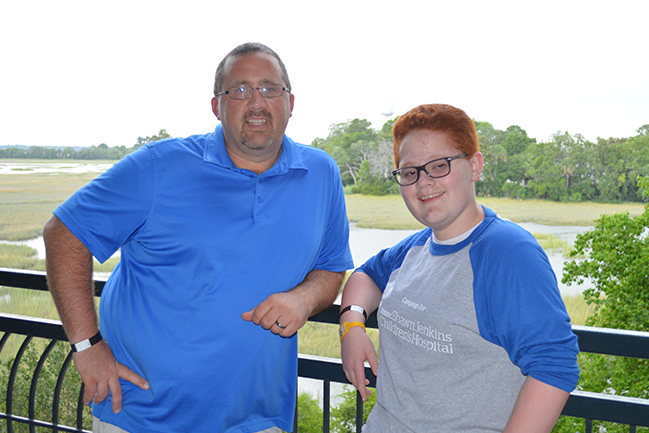 Father's Day the past two years has been extra special! You see, my son, Riley, was diagnosed in 2005 with a kidney disorder called nephrotic syndrome. He was 22 months old. One day we noticed swelling that seemed to increase more and more as the day went on. We also realized he was not using the bathroom as much as usual. It was around 8 p.m. when we decided something was seriously wrong and went to a local emergency room. After many tests and procedures, and 12 hours in the ER, we were told they couldn't find anything wrong and Riley would be fine. We were instructed to follow up with our pediatrician if he did not get better.
Our parental instincts knew that was not the right answer. We asked for copies of everything they did and headed straight across the street to our pediatrician, who had since opened as it was now 8 a.m. We begged the front desk person to fit us in and told her all that we had been through the night before. Luckily, our pediatrician had done a rotation in nephrology. After laying eyes on Riley and the test results we brought with us, he quickly made some calls to the Medical University of South Carolina (MUSC).
I think it was only a few hours before they were able to get Riley a bed and we were admitted to MUSC Children's Hospital. Immediately we were under the care of some brilliant doctors and medical staff. We were still in shock from the past 18 hours when we learned Riley had a kidney issue called nephrotic syndrome.
Over the next 11 years we were admitted between four and six times a year for three to five days at a time because of Riley's relapses. There were so many procedures, blood tests, medications, and injections during that decade. Plus the sleepless nights worrying in the hospital room and the countless trips between Moncks Corner and downtown. MUSC was there for us the entire time.
I cannot help but imagine what the results might have been if we had not lived where we did, less than an hour away from the hospital that has treated my son. Although not a perfect ride (because what is, especially in this situation), MUSC doctors never gave up on finding the right treatment. After trying so many, MUSC doctors found one from the 70s that works well for Riley. 
October of 2016 was the last time Riley had to be admitted to the hospital for kidney issues. He's 15 years old now. Although I hope he won't have to be admitted again, I am excited that if he is, the brand-new children's hospital, with state-of-the-art equipment and technology, will be there waiting to help him starting in the fall.
You may not think this new hospital is a big deal, but I can tell you from experience – you never think it is until you need it. When you need it, you will be so glad and grateful it's there, just like I was. I am super thankful and grateful for not just the last two years he has been hospital-free, but for the last decade plus, when we needed MUSC more than ever. Thanks for helping us keep our boy healthy and making my Father's Day an amazing day that I get to spend with our kids.
Mark Klim