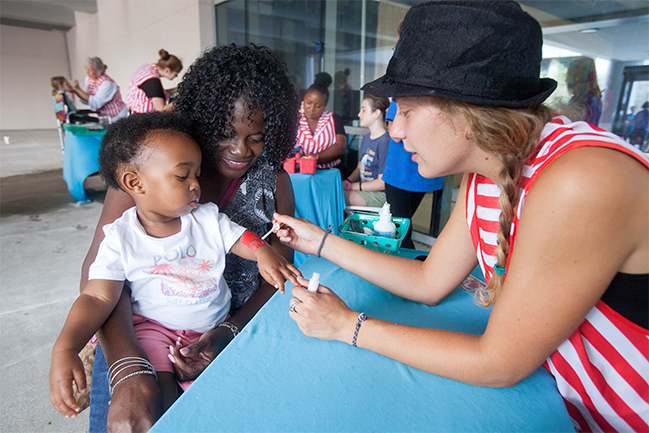 View the photo album on Flickr.
"It's massive. It's a full city block. It's spectacular."
-Shawn Jenkins
Shawn Jenkins, whose family donated $25 million to the new hospital, was on hand, quietly talking with people and watching as tour group after tour group headed in to check out the hospital. "It's just the joy of a lifetime to see this building and meet all the people we've been able to meet. Today, watching expectant moms and dads and kids coming through — it's been fantastic."
He said the hospital, which stands near the intersection of Calhoun Street and Courtenay Drive in Charleston, is bigger than he imagined. "It's hard to relate to 625,000 square feet. When you walk around it, it's massive. It's a full city block. It's spectacular."
The kids at the event were more focused on fun than hospital tours. There was face painting, arm painting, a "dunk a doctor" tank, a place for kids to try bike riding, a kissing booth featuring pet therapy dogs, bubbles, jugglers, people on stilts and more.
"Yea, I did it," said 3-year-old Adeline Pack after a dunk tank ball toss that hit the target, plunging a medical resident into the water.
But the employee-led tours were the draw for a lot of adults.
 "We're so excited to have you all come in and look around," said Katy Decker, nurse manager of the mother-baby unit, to a group of about a dozen women and men.
"We'll go through the nursery area where your baby might be but hopefully your baby will stay with you," Decker said as they walked through a hall and arrived at a labor and delivery room.
"There's an iPad outside every room that will automatically flow from our electronic medical records. It will show your name, if you have any dietary restrictions, any kind of allergy or isolation you have to be on, it will all be here."
Inside each room, a large screen shows the patient which doctors and nurses are coming in, reading their information off employees' badges and displaying it to make their names and roles easier to keep track of.
The hospital also features: 
Twenty percent more patient beds than the current hospital.
An advanced fetal care unit and the largest neonatal intensive care unit in the state.
Floors dedicated to children with cancer and heart problems.
A rooftop helicopter landing pad designed to accommodate the Coast Guard's new Jayhawk helicopter for emergency and disaster situations.
Access to kitchens, laundry facilities, and showers for families staying at the hospital for an extended time.
Multiple play spaces for kids.
Faith Smith, who is due in late December, said she loved it all. "I can't wait."