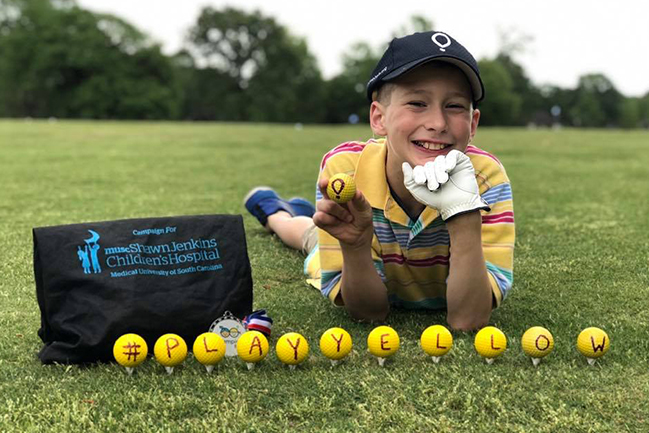 David Powell is a patient at MUSC Children's Hospital and has spent the past year serving as the face of all local Children's Miracle Network (CMN) Hospitals campaigns. David and his mom, Sarahann, recently answered a few questions about David's experience as the 2019 CMN Hospitals Champion.  
Q. What was David's favorite part of being a champion?  
Sarahann and David: Being a champion during the final construction phases of the new MUSC Shawn Jenkins Children's Hospital, we had a lot of great opportunities to be hands-on in the process. David loved helping Senior Project Manager Gopi Omraju give tours to local CMN partners and showing them what their hard work to raise funds was helping build. 
Q. What was David's favorite event he participated in?  
Sarahann and David: The first Hooked on Miracles Fishing Tournament! As a kickoff to the event, the owner of Key West Boats, Hutch Holseberg, took a group of patient families deep sea fishing on his personal boat. David caught a small blacktip shark! We also attended the tournament weigh-in where David helped weigh the king mackerel the fisherman were bringing in and thanked all of them for participating. 
Q. Did David meet anyone exciting during his time as CMN Champion?  
Sarahann and David: In June, we traveled to Dayton, Ohio, for the Speedway Miracle Tournament where he got to meet so many new people! Amongst his favorites were some of the executives from Keurig, Dr. Pepper, the CEO of Speedway gas stations, Tony Kenney, and patients from other CMN Hospitals all over the country!  
Q. What is David most proud of this year as being the rep from MUSC?  
Sarahann and David: This one is easy! When David was asked to be the 2019 Champion, it was important to us for David to serve as the best ambassador possible. We made a personal goal to improve David's confidence and communication skills. After a year's worth of hard work and with the help of his wonderful speech therapist, David told the story of how MUSC Children's Hospital saved his life as a newborn at the 2019 Y102.5 & WEZL Cares for Kids Radiothon. He shared his story live on both stations!