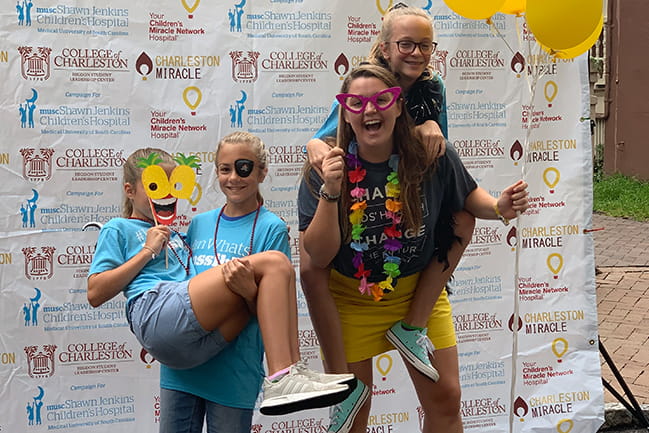 Niamh Cahill is a College of Charleston student and executive director of CougarThon, a student-run dance marathon that raises money for the MUSC Shawn Jenkins Children's Hospital. She told us about her own experience as a patient in a children's hospital, what inspires her to dance, and how you can help support Children's Miracle Network Hospitals like MUSC.
Can you tell us about CougarThon at the College of Charleston? What is it and how did you get involved? 
Charleston Miracle is the largest student-run organization at the College of Charleston, and our mission is to raise funds, awareness, and education for the patients and families at our local Children's Miracle Network hospital, which is the MUSC Shawn Jenkins Children's Hospital. Throughout the year, we hold various events both on campus and in the community to help us reach our yearlong fundraising goal. At the end of the year, Charleston Miracle hosts CougarThon, which is a 10-hour dance marathon that culminates our year of fundraising where our Miracle Makers stand on their feet for those who can't.  
I first got involved with Charleston Miracle my freshman year as a participant and immediately fell in love with the organization. The impact that we can have as college students on the families and kids in the Charleston community inspired me and made me want to get even more involved by joining the board and then eventually becoming the executive director.  
This is your first year as executive director of CougarThon. Can you tell us any exciting things you have learned planning this event? What is the fundraising goal this year? 
I have learned a lot during my time as executive director, and I think the most important thing is that we could not achieve what we do without the help we receive from both the Charleston and College of Charleston communities. It is not easy to plan and execute a 10-hour event and raise over $100,000 through peer-to-peer fundraising, but it is made possible through all of the incredible students, advisors, and people in the Charleston community who donate their time, money, and services to Charleston Miracle. Our fundraising goal this year is $150,000 and we would not be able to make so many miracles without all of our donors and Miracle Makers who have joined us to fight for the kids at MUSC Shawn Jenkins Children's Hospital.  
You were treated at a children's hospital when you were younger. Can you share a bit about your experience? 
During my junior year of high school, I was diagnosed with a rare hip condition called bilateral acetabular retroversion, a diagnosis that changed my life. Due to the rarity of my condition, I had to travel to Boston Children's Hospital in Massachusetts for treatment, which is pretty far from my hometown of Chattanooga, Tennessee. So far I have had three hip surgeries, one of which was reconstructive hip surgery, and I have many more to come, but my whole experience would have been very different without my doctors and nurses who worked so hard to help me live a life as normal as possible.  
During my time in the hospital I met many other children who also knew the hospital very well as a result of their conditions or diagnoses. While I do live a relatively normal life with my hip condition, there are kids who are not as lucky, and they are the reason I am involved with Charleston Miracle. By being part of Charleston Miracle, I am fundraising to provide funding for treatment and facilities for the children at MUSC, so that they have a chance to receive life-changing medical care, just as I did.  
One of the questions that we ask our participants to see why they get involved with Charleston Miracle is "Why do you dance?" For me, I dance for the kids I have met who spend every birthday and holiday in the hospital. For the kids who can't run around and be a normal kid. For the kids who live every day waiting for the next doctor, surgery, or diagnosis. I am lucky enough to still be able to dance, so I will keep dancing for those that can't.   
What is your favorite dance? 
I am probably the worst dancer ever, which is ironic considering the amount of time I spend running a dance marathon program. I usually like to stick to the simple dances, so the Cha-Cha Slide or the Cotton Eye Joe are definitely some of my favorites.    
Of all the CougarThons you've been involved in, what or who inspires you to keep dancing? 
There are days that this work is definitely tough, when we don't hit a fundraising goal, don't have the turnout we hoped for at an event, or we have done everything to make something a success and it just doesn't turn out like we might have hoped. Then I am reminded of all the Miracle kids and families that I have met during my hospital stays and during Charleston Miracle events. It is the hope, courage, and determination of these Miracle kids that inspires me to keep going.
When I hear stories about how one of our Miracle kids finally got the heart that she was waiting for or when I run around and play hide and seek with a kid who has spina bifida and wasn't expected to be able to walk, I am reminded that this is so much bigger than an event or a fundraising total. We are fighting so that our Miracle kids can have a childhood and grow up to chase their dreams. They are the reason why I got involved with Charleston Miracle and they inspire me every day to keep going, no matter how hard it gets.