Raelyn Wilson Patient Story
A Testimonial Full of Heart & Faith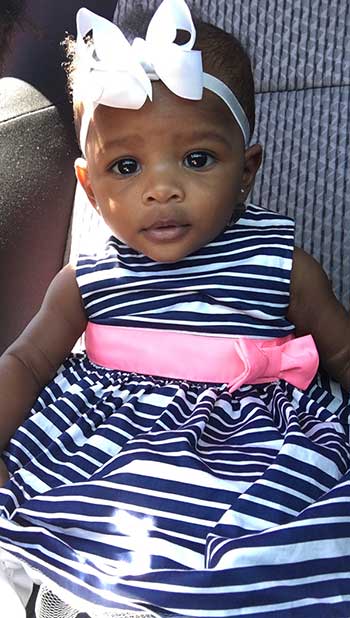 On October 13, 2016, at 1:13 a.m., God blessed Donald and Rachael Wilson with a baby girl, Raelyn Olivia Wilson in Columbia, S.C. Things were going great as they were discharged from the hospital that Saturday, but early Monday morning they were in the emergency room with their new baby girl who looked very pale, was taking very shallow breaths, and her body was cold.

Rachael recalls, "I had never been so scared in my life. In my head, I was thinking that this little person just came into the world and now she will be taken from me. But God had different plans.

"I think that morning every person working in the emergency department was in that room with her. After a few hours in the ER she was transported to the pediatric ICU. On the way to pediatric ICU, Raelyn's oxygen saturations dropped, and she had to be placed on a ventilator before she reached the ICU. I stood there and watched my newborn baby have a breathing tube placed. I was in a whirlwind of fear, but what kept me calm was that I prayed and continued to worship the Lord through it all.

"That Monday was the longest day of my life not knowing if we would be able to bring our sweet precious baby home. We waited for hours in the waiting room; doctors left and right were asking for our medical history and continuously letting us know our baby was very sick. We were separated from Raelyn for several hours. Her liver and kidneys were shutting down. That four-day old newborn had to be placed on a ventilator, was given numerous amounts of blood, and had every test possible to figure out was wrong. I was so confused. Just two days ago when we left the hospital they said she was healthy.

"The doctors decided to order an echocardiogram, and we found out our daughter had a congenital heart defect (Aortic Coarctation). Finally we had an answer, so then we asked 'What now?' The answer was surgery... open heart surgery."

Rachael is a certified sonographer and works every day reading adult sonograms, but she remembered the moment she heard little Raelyn's echocardiogram results. "All that training goes out the window, you feel helpless."

In order to repair Raelyn's heart, she would need to be transferred to MUSC Children's Health Heart Center. When she stabilized, she was airlifted to the pediatric heart center in Charleston at 1 a.m. Her parents drove to Charleston in the middle of the night.

The first few weeks at MUSC Children Health were focused on getting her organs to recover and giving her body time to rest. During the first week, her kidney and liver function improved dramatically. Within a week of arrival, she was breathing on her own and the ventilator was temporarily removed.

"When you have a new baby, none of this crosses your mind. For example, when you hold them you never think that you would have to worry about pulling out IV's or different kinds of tubing, or even making sure the monitor is not too far away. Never again will I take for granted the simple fact of just holding your child," she said.

"On Friday, October 28, Raelyn went through a six-hour heart surgery to fix her aortic arch, her VSD and ASD. Surgery went well, and they were able to repair all that they intended.

"Leading up to surgery the doctors prepared us that she would more than likely be on the ventilator for a week after surgery and spend another week in ICU after surgery. But my God said otherwise. Raelyn had her breathing tube removed three days after surgery, and we left the ICU six days after surgery. Prayer changes things."

The focus shifted to feeding Raelyn. They tried feeding her from the bottle, but couldn't get her to reach her feeding goals. So Rachel and Donald were faced with another decision that would require Raelyn to undergo another surgery to insert a feeding tube (G-Tube).
"It was not an easy decision, but it was best for her. Three days after surgery we got the magic words 'Home Today.' We finally got to take our baby girl home after being at the hospital for a month," Rachael said. "We were just in time for Thanksgiving, and we indeed had a lot to be thankful for. She's a miracle."

On weekends, Raelyn was visited by her one-year-old brother Tripp, who stayed with Rachael's parents in Greenville, while Raelyn's heart was repaired.

Rachael says the staff at MUSC Children's Health Heart Center really took care of the whole family. She is very appreciative of the care and love they received from the hospital staff, the Ronald McDonald House and the families they met at the PCICU, who soon became part of their family.

In closing Rachael said, "Thank you to all the nurses and doctors in PCICU especially Dr. Bradley, Dr. Graham, Dr. Zyblewski, Dr. Buckley, Vanessa, Laura, Christina, Madonna, Alex, Joy, Heather, Andrea and Ms. Mary on the step down unit. Thanks to all the staff that offered a kind word."

At nine months of age, Raelyn is happily growing right on schedule and is surrounded by love.