James' Story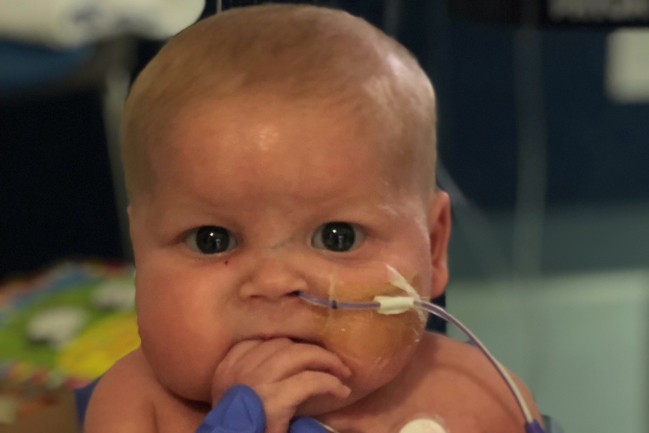 James Sanderson came to MUSC Children's Health with a broken heart and left four and a half months later with a fully repaired heart along with his parents, Matthew and Lauren, whose hearts were filled with love and gratitude for the team that saved his life.
Their experience led to a wonderful letter of appreciation to the MUSC Children's Health pediatric cardiac team that reads in part:
"Some people come into our lives and quickly go.  Some people move our souls to dance.  They awaken us to a new understanding with the passing whisper of their wisdom.  Some people make the sky more beautiful to gaze upon.  They stay in our lives for awhile, leave footprints on our hearts, and we are never, ever the same.  We will never, ever be the same for knowing you.  From the bottom of our hearts, thank you…Mathew, Lauren and James Sanderson."
Here's the rest of their story and the journey that the Sanderson's took.
You can imagine the happiness Matthew and Lauren felt when they learned she was pregnant.  Her pregnancy was fairly routine and without complications.  The Goose Creek, South Carolina residents were ecstatic when she went into labor.  James Conway Sanderson was born on April 20 at Summerville Medical Center.
Unfortunately, doctors knew immediately that James was in distress.  His skin was tinted blue, and the neonatologist obtained an echocardiogram that confirmed that James was suffering from TGA or more commonly called Transposition of the Great Arteries.
Transposition of the Great Arteries is a congenital defect of the heart where the two main arteries (aorta and pulmonary) of the heart are transposed.  TGA occurs in about three percent of congenital heart defects.  The majority of these have no known cause and are by pure chance.
James was immediately transferred to MUSC Children's Health where Dr. Scott Bradley, a pediatric and congenital heart surgeon performed a seven-hour surgery five days later.
Emotional and grateful mom Lauren said, "He is a miracle, and we are so appreciative of everyone who helped to save him."
"The surgery was successful, but he went into vasoplegic shock.  His vessels couldn't keep up with his heart," she said.  "His blood pressure would plummet and his kidneys and liver took hits."
Over the course of the next four months, James would undergo multiple procedures that included IVs in both of his feet and the tops of his hands, hemodialysis for his kidneys, and catheters, G-tube and picc lines for food and medicine.
Describing the care at MUSC Children's Health Lauren said, "It's a well-oiled machine where everyone complimented everyone else. 
"We have never been so impressed with a team, a unit, and frankly individuals as we are and will always be with you," she said.  "They were all lights in a very dark place and for that, we are forever indebted to them."
She added, "I could never do what they do with such grace.  I never understood the job that they do but I know the happy endings are why."
Someday the Sandersons plan to tell James the memorable stories of how team members stayed by his bedside, how they came in or called on their days off to check on him and how they held them tight and let them cry. 
"They celebrated good news with us and became our family and friends for life," she said.
James is now at home in Goose Creek, and the three family dogs watch out for him and sleep under his bed.  Hands of Hope and many of their new friends at MUSC continue to check on him.
Follow-up care will continue, and he will visit the cardiology and nephrology clinics at MUSC Children's Health.  He continues to take lots of medication and slowly will be weaned off of them.
In the future, Lauren plans to pay it forward and help the parents of others that require the special skills and talent of the pediatric medical teams at MUSC Children's Health.