Chase Towne's Patient Story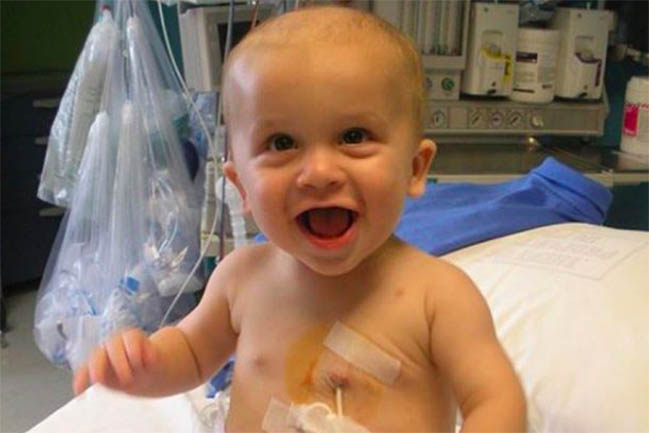 At 8 months old, Chase wanted to walk. He was learning to pull up but would not put pressure on his right leg. His concerned parents, Chuck and Christine, took him to the pediatrician who sent them to the Medical University of South Carolina (MUSC) Emergency Department for fear he had a septic joint because his white blood counts were off. 
The next morning, the MUSC Children's Health medical team discovered a cancerous tumor the size of a softball in his abdomen. After multiple tests, Chase was diagnosed with Stage IV Neuroblastoma, an aggressive cancer of the sympathetic nervous system. He had a metastases to the liver, spine, abdomen, skull and dura (the lining of the brain), multiple bones, bone marrow and skin.
The pediatric cancer specialists at MUSC Children's Health came to Chase's family with a game plan of chemotherapy and several surgeries. "We'd done our research by that point and we found out that the MUSC Children's Health team was one of the best in the nation," said Chuck. "We felt confident." 
Neuroblastoma is the most common solid tumor in children under five years old. For children with advanced stage "high neuroblastoma," the survival is less than 50 percent. MUSC Children's Health participates in clinical trials for neuroblastoma through the Children's Oncology Group and the Beat Childhood Cancer Research Consortium, including a trial incorporating molecular profiling of the tumor with the addition of a targeted drug at diagnosis, Peds PLAN (Pediatric Precision Laboratory Advanced Neuroblastoma Therapy), as well as a trial with a drug eflornothine (DFMO) given at the end of standard therapy. A new study conducted in part at MUSC Children's Health found that DFMO increases the survival for children with high risk neuroblastoma.
Chase had all his treatments at MUSC Children's Health which included ~one year of intensive chemotherapy and five surgeries to treat his neuroblastoma – one of which was a craniotomy where skilled surgeons removed part of his skull to get to the tumor in between the two hemispheres of his brain. 
The family was at MUSC for weeks at a time, including older sister Olivia who was 3 years old when Chase was diagnosed. "MUSC helped us tremendously with Olivia—they wrapped their arms around her too. They did a lot of explaining to her about central lines and about the Broviac tube Chase had in his chest for the first three years of his life," said Chuck. "A lot of days she was the best medicine for him. We'd bring her to hospital and within a few minutes of her being in the room, he'd be alert and trying to hang with his big sister."
Chase was a vivacious toddler – he grew up and learned how to do a lot of things at MUSC Children's Health, including walking the halls pushing an IV pole. Today he continues to thrive as a 9-year-old. There is "no evidence of disease" and he recently went from an "every three-month check" to a "once a year check" at the MUSC Followup After Cancer Treatment (FACT) clinic. 
Chase still stays active playing with Olivia and now with his younger sister, Faith, while his dad lends input to the MUSC Children's Health Family Advisory Council. The family also runs a nonprofit called Hammer Out Pediatric Cancer to raise money for the cancer research lab at MUSC Children's Health – the only research facility in South Carolina dedicated to pediatric cancer research.