Elizabeth Corontzes' Patient Story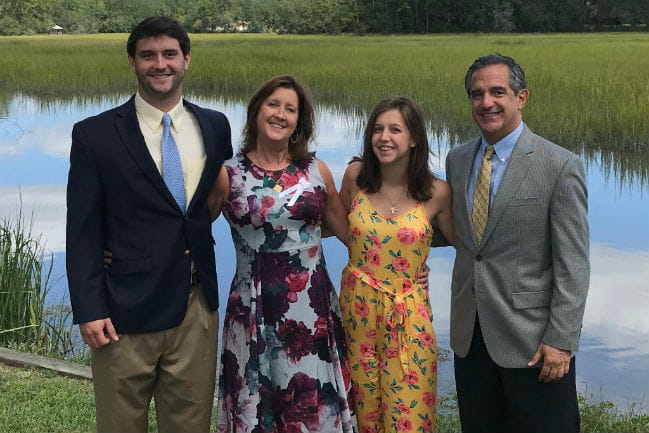 Elizabeth Corontzes, 16, was a healthy, active rising junior at Wando High School in Mt. Pleasant when her parents noticed she had some bruises that they thought were just normal. Her mother recalled that Liz had gone paddle boarding with friends from Boston, but it seemed strange that she had bruising around her knees the next day. She thought maybe she was anemic but to be safe, she took her to see her pediatrician, Dr. Sherry Scott.
The family was enjoying the 4th of July holiday weekend at the beach, when her mother received a call from her pediatrician in regards to results from Elizabeth's blood work.
She told us to head home, shower and go directly to MUSC Children's Hospital. Her bloodwork determined she had leukemia. Further testing would find that she had Acute Myeloid Leukemia (AML), a rare form of leukemia that often presents in the form of bruising.
Michele Hudspeth, M.D., a board-certified pediatric hematologist-oncologist, met them when they arrived at the hospital. The next day, Elizabeth started chemotherapy treatments.
"The first round went well," her mother, Freddy, remembered. "Many friends and family members came to visit Liz and were there for support which helped. Her brother, Christopher, who had just started college, returned home every weekend to lend support and to be with Elizabeth. Family members and friends flew in from around the country. This incredible level of support was constant and continued throughout. Some very good friends created a 'Live it Up Liz' support sticker that was embraced by the community, as well."
Immediately after Elizabeth's diagnosis her parents and brother tested to see if they would be a match in case she needed a bone marrow transplant and amazingly, Christopher was a match. 
"After the second round of chemo, many, many complications set in," Freddy said.  "Ordinarily with her type of cancer, she would have four rounds of chemo, but after this round, there were many negative side effects from the chemo."
"The chemo actually worked so well that it got rid of the leukemia, but the chemo was impacting her heart and other areas were being compromised, as well. She was suffering from cardiomyopathy. She had a weird fungal infection on her leg, which required surgery and lung complications resulting in the placement of several chest tubes," she continued.
Elizabeth spent from July 7 thru December 19 at MUSC Children's Hospital. She was in and out of the ICU and was followed constantly by Dr. Hudspeth and her cardiologist, along with a huge medical team collaborating together.
In December the medical team got together and determined that it would be safe for Elizabeth to go home. Her parents brought her to MUSC every other day to be seen in both the oncology and cardiology clinics. On December 23rd an echocardiogram showed what the cardiologist described as a "true Christmas miracle," and Elizabeth's heart was strengthening. Things finally began to improve all around.
Two teachers from Wando High School home schooled her while she was recovering at home. She spent the entire spring regaining her strength, and she was able to return to Wando for her senior year allowing her to graduate with all of her best friends.
Liz attended Trident Tech for two and a half years and last January was accepted in to the Pre-Nursing Program at the University of South Carolina with the goal of entering the medical profession.
Several weeks ago, after years of follow-up and clinic visits, Elizabeth passed the five-year mark without leukemia, and Dr. Hudpseth released her. Elizabeth now moves to the FACT (follow up after cancer treatment) survivorship clinic. This is a special clinic where physicians follow pediatric cancer survivors until age 30, which is led by Dr. Anca Dumitriu, a board-certified pediatric hematologist/oncologist.
"It was bitter sweet as we hugged her goodbye," Freddy remembered.
Elizabeth's journey clearly influenced her career path and resulted in many friendships, including those she made at Camp Happy Days, a camp designed for children with cancer. Not only did she enjoy the camp experience, she also has been volunteering at the camp each summer ever since. Elizabeth's parents cannot speak highly enough of everyone who cared for her.
Freddy stated, "Everyone was amazing. Dr. Hudspeth, Dr. Jaroscak, Dr. Kraveka and the other doctors. The entire 7B team at the Children's Hospital, the stepdown unit, and the PICU couldn't have taken better care of Elizabeth…and us, to be honest.
"We became so close even after she was discharged that today we have literal, meaningful friendships with many of the people we met," her mother added. "I literally lived there. As awful as it sounds, you feel lost after you come home because you are so accustomed to seeing doctors and nurses. Even though you are grateful to be home, you miss the support they provided.
"I could go on and on about the staff. They were really incredible during a horrific period of time. They did everything to take care of Elizabeth and us," she concluded.