Mack's Story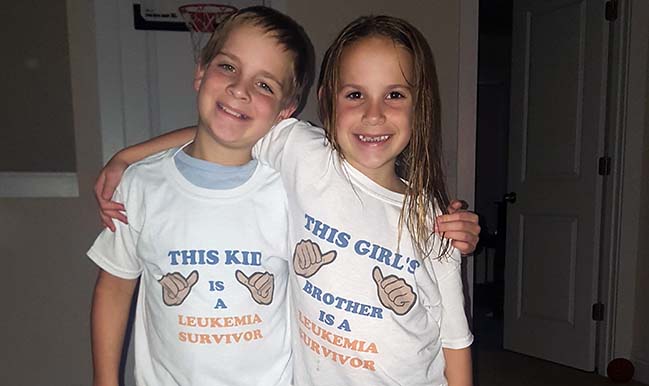 Laura Ann Shieder is no stranger to MUSC Children's Health. She has worked on the pediatric cardiology unit as a nurse for 15 years. From heart murmurs to heart transplant recovery—she's seen a lot.
But nothing could prepare her for her 19-month-old son Mack's cancer diagnosis. She would be walking a different floor of the MUSC hospital halls for the next three and a half months while Mack received inpatient treatment for acute mixed lineage leukemia (MLL).
A rare cancer, just 5 percent of all leukemia diagnosed is MLL in which two forms of leukemia combine to attack blood-forming cells in the bone marrow. Mack is the youngest child to receive treatment for acute MLL at MUSC Children's Health.
After doing her research, Laura knew MUSC was the place for Mack to receive care, not only was she friends with many of the staff but she also discovered that MUSC is a member of the Children's Oncology Group (COG), the world's largest organization devoted exclusively to childhood and adolescent cancer research. The COG unites more than 9,000 experts in childhood cancer at more than 200 leading children's hospitals, universities, and cancer centers around the world in the fight against childhood cancer.
Laura was pregnant when Mack's journey began…and delivered a healthy happy girl, Scout, during the three and a half years Mack was getting chemotherapy at the MUSC outpatient cancer clinic. During these visits, the staff was always willing to help her with newborn Scout by holding and feeding the sweet baby girl. Then with inpatient and outpatient treatments complete, Mack spent the summer playing and started kindergarten.
Mack's leukemia relapsed 11 months later and had traveled to his spinal fluid. A bone marrow transplant (BMT) was needed and a 10 out of 10 match donor was found with Mack's now 3-year-old sister Scout. The BMT allowed doctors to give high doses of chemotherapy and radiation to eradicate Mack's leukemia. The BMT also gave Mack the benefit from Scout's healthy immune system.
This time in the hospital was longer and more intense but they were glad to have MUSC as close as it is the only comprehensive transplant center in South Carolina. With very little staff turnover, they became like family. Laura said, "Everyone knew us, expected us. Mack would say 'I'm going to see my friends.' Every day someone from MUSC would sit down and ask us how we were doing and spend quality time with us. Those are things that stand out to us."
Mack, aka Mighty Mack, is 10 years old now, Scout is 8. They can be found together during most of their free time…just like it has always been and will be with these two "soul" siblings.