Victoria's Story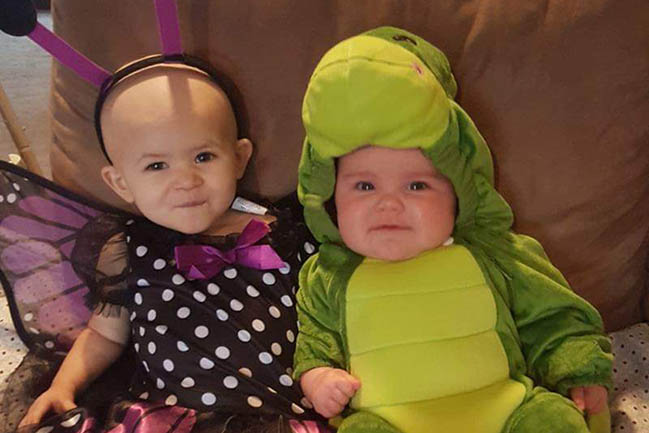 While Victoria Thompson was at Medical University of South Carolina (MUSC) Children's Health, you could often find her in the atrium playing in the kids' kitchen or banging out some tunes on the piano. She knew the child life specialists, and her way around the hospital, well having spent 200 plus days there as a toddler.

At 18 months old, Victoria started running high fevers, her face was often pale and her stomach was swollen. After irregular blood work, an ultrasound was done and doctors found a large tumor on her right kidney. Shortly afterward Victoria's dad, Jonah, and mom, Jessica, were told their daughter had Stage IV Neuroblastoma—a disease of the nervous system that usually shows up in the adrenal gland (which sits above the kidney). The high-risk cancer is diagnosed in approximately 700 children in the U.S. every year and it is the most common solid tumor seen in children under the age of 5.

After her first round of chemotherapy at MUSC Children's Health, Jessica shaved Victoria's head and they made it home to enjoy Halloween with her baby sister, Reesie. On other days, when the chemotherapy treatments took more of a toll, she'd be admitted for monitoring and care. While Victoria was recovering in the hospital, Jessica would visit the chapel to enjoy the scenic view from the window, read and just have a place to be quiet. After Victoria's fifth round of chemotherapy, surgeons removed the tumor and were able to save her kidney.

That spring, Jonah and Jessica brought Victoria to MUSC Children's Health again for a bone marrow transplant (BMT) to give her new blood-making cells. The doctors were able to use Victoria's own cells that were previously harvested during chemotherapy. As was the case with Victoria, if a patient receives her own cells there is generally a quicker recovery. The whole family was uplifted as they spent Mother's Day at MUSC Children's Health where Jessica received a tote bag full of lotions, snacks and inspirational notes from a church group in the community.

The weekend following her BMT, Victoria started her first of 21 rounds of radiation. Victoria was often entertained with doctors wearing light-up glasses, colorful scrubs and saying phrases that would make her smile like, "time to draw your ketchup." Because of her age and size, Victoria was given anesthesia so that she would remain still for the targeting for each dose. Every time, Jessica was allowed in the room to hold her daughter until she fell asleep. After radiation, Victoria received five rounds of immunotherapy/antibody treatment for a total of seven weeks.

As one of the first children in the country to have genomic screening as part of her treatment for high-risk neuroblastoma, Victoria has been helping her doctors to identify better treatments for neuroblastoma. MUSC Children's Health participates in clinical trials for neuroblastoma through the Children's Oncology Group and the Beat Childhood Cancer Research Consortium, including the trial Victoria is on as well as a trial with a drug - eflornothine (DFMO) given at the end of therapy. A recent groundbreaking study conducted in part at MUSC Children's Health found that DFMO increased the survival for children with high risk neuroblastoma when given at the completion of therapy. Victoria is currently receiving DFMO in order to prevent relapse. MUSC Children's Health also runs the only translational pediatric cancer research lab in the state which seeks to develop more effective treatments for childhood cancers.

In March, Victoria will celebrate her fourth birthday. She has gone from checkup scans every three months to every six months. The 5-year survival rate is a milestone her family is looking forward to reaching when she turns 7 years old.